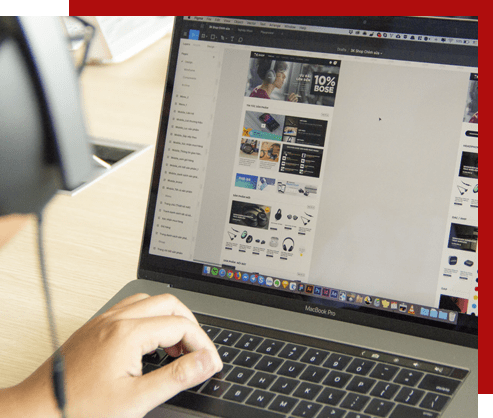 Improve Existing Business Theme in our
UI/UX Design Studio
From competitive analysis to interactive prototypes, our UI/UX team designs easy-to-use yet engaging user interfaces to increase conversions, reduce cost of maintenance and develop consistent user experience. We build user-friendly product designs for companies to turn their ideas into reality and achieve their quantifiable business goals.
Complete Design Solution
We make use of comprehensive UI/UX development process to ensure consistency between designing and coding. Our sophisticated product development process ensures all piece of the overall design system is reusable across multiple parts of the product and even different projects.

Information Architecture
Our expert UI/UX designers select broad and pragmatic ways to structure and organize content and data of web and mobile applications. In fact, prior to commencing our UI/UX process, we analyze actions and behaviors of targeted audience deeply to create well-suited solution to match the key business goals of our clients.

UI Development
UI specialists at Golpik deliver best efforts to turn thoughts and imagination into clear, functional and minimal designs. They take responsibility to design architecture of an app as well as friendly end-user interface to fulfill your requirements.

UX Development
A better practice is to consider all possibilities of how end-user will interact an app in future as it eases up entire UX development. Therefore, we do extensive analysis and research of a behavior of user, and features of a system. Finally, it gets easier to ensure quick rendering of visual and functional elements.

Exclusive Design App Solutions
We create unmatched and outstanding solutions for all businesses. Our highly-capable UI/UX development team leaves no stone unturned in designing an amazing UI for future to make your business stand out and increase your chances of your targeting your desire audience.
Gear up For User Loyalty with our Well-Kept UX/UI Development Process
We are on mission to let our clients' businesses benefit from our incredible UX/UI development process to increase loyalty of their end-users consequently. To help our customers achieve this target of high loyalty and empathy, we dive deeper into user persons to lessen risks and uncertainties to meet needs of targeted audience.
ANALYSIS AND RESEARCH

CONCEPTUALIZATION

UI/UX WIREFRAMING

FUNCTIONAL UX/UI

PROTOTYPING

DEVELOPMENT PROCESS

UI TESTING
Our Facts
Golpik is the full-service IT company who reached to the heights of success in a short period of time. Our company has experienced an everlasting success in its ventures that opened avenues for more growth in business as well as in profit margins annually.

STARTED IN 2012

TEAM OF 150+

24/7 CUSTOMER SUPPORT

STREAMLINED PROCESS
Client Testimonial